USS Startovac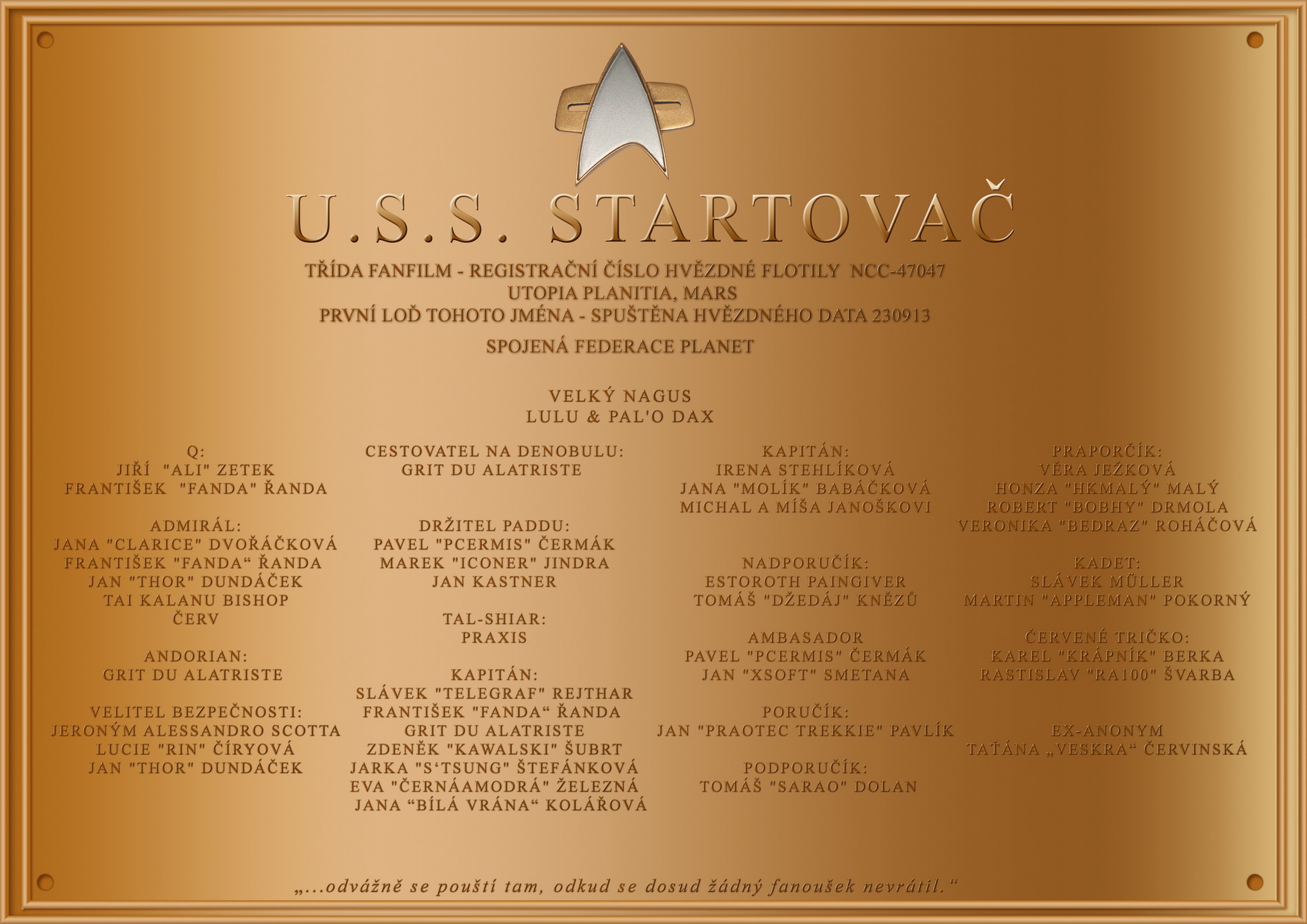 We would like to dedicate this page to brave women, men and other entities of the USS Startovac NCC 47047 who did not hesitate and came to our help during shooting of the Star Trek fanfilm Secret Games.
We thank to the whole crew and passanger of the great ship for boldly going where no fan has gone before!
You can read an interview with the Great Nagus, our biggest supporter, right here...
GREAT NAGUS
LULU & PAĽO DAX
Q
ADMIRAL
Jiří "Ali" Zetek
František "Fanda" Řanda
František "Fanda" Řanda
Jana "Clarice" Dvořáčková
Jan "Thor" Dundáček
Tai Kalanu Bishop
Cerv
ANDORIAN
AMBASSADOR
cpt. - Grit du Alatriste - Filip Neumann
Pavel "Pcermis" Čermák
Jan "Xsoft" Smetana
CAPTAIN
CHIEF OF SECURITY
Černáamodrá
Jan "Thor" Dundáček
František "Fanda" Řanda
Lucie "Rin" Číryová
Jana "Bílá Vrána" Kolářová
Jeroným Alessandro Scotta
Michal a Míša Janoškovi
Zdeněk "kawalski" Šubrt
PADD SPECIALIST
Jana "Molík" Babáčková
Marek "Iconer" Jindra
cpt. - Grit du Alatriste - Filip Neumann
Pavel "Pcermis" Čermák
Slávek "Telegraf" Rejthar
Jan Kastner
Irča Stehlíková
Jarka "S'Tsung" Štefánková
TAL-SHIAR
Praxis
VISITOR TO DENOBULA
LIEUTENANT-COMMANDER
cpt. - Grit du Alatriste - Filip Neumann
Estoroth Paingiver
Tomáš "Džedáj" Knězů

LIEUTENANT
LIEUTENANT JUNIOR GRADE
Praotec Trekkie
Tomáš "Sarao" Dolan
ENSIGN
CADET
Robert "Bobhy" Drmola
Martin "Appleman" Pokorný
Honza "HKMalý" Malý
Slávek Müller
Bedraz
xhedgehog
RED SHIRT
EX-ANONYMOUS CREWMEMBER
Karel "Krápník" Berka
Taťána "Veskra" Červinská
ra100